Scott MacLeod's
~ Honey Piobaireachd (tentative title) ~

(classical bagpipe music recording upcoming)




...

NEW

Scottish Small Piping

ALBUM

...


S

cottish

S

mall

P

iping

Scott MacLeod is a musician from the SF Bay Area ~ ScottMacLeod.com/piping.htm. His first album, 'Honey in the Bag,' seeks to expressively evoke the harmonious Scottish Small Pipes' sweetness in playing transcendent ceòl beag, or light music. He is the founder & president of free-to-students' World University & School, with its Scottish Small Piping WIKI subject for open teaching and learning.


~ Honey in the Bag ~




Online, East Bay, SF Bay Area & northern California
415 480 4577
---
Scottish Small Piping Lessons,
(Highland Bagpiping Fingering)

Weddings, Celebrations, Events,
(on Skype)
New Open Band (Berkeley) with Small Pipes' Twitter focus:

https://twitter.com/TheOpenBand

For more information: sgkmacleod@gmail.com

Skype: scottm100
sgkmacleod@gmail.com ~ MusicalMacFlower@gmail.com ~ scott@scottmacleod.com


S.G.K. MacLeod video channel -
https://www.youtube.com/sgkmacleod

http://www.reverbnation.com/scottmacleodbagpiping
https://soundcloud.com/scottmacleod-com

I've played the Scottish bagpipes for more than 40 years, and usually perform in full highland regalia, - in the ancient, hunting, MacLeod tartan. I try to play for 5-9 engagements a month. I've played for numerous weddings, funerals, and other events, and in pipe bands.
I've studied in Edinburgh, Scotland, two separate years (1977-1978 and 2003-2004), playing in the Fettes College (IB) high school Pipe Band and at the Edinburgh Tattoo in the Castle; and studying in the School of Celtic and Scottish Studies at the University of Edinburgh.

I've studied with some of the finest piping teachers and pipers in the world: John MacFadyen, Duncan Johnstone, Pipe Majors Alasdair Gillies and Ian Whitelaw, Jack Lee, Lorne MacDougall and Connor Sinclair.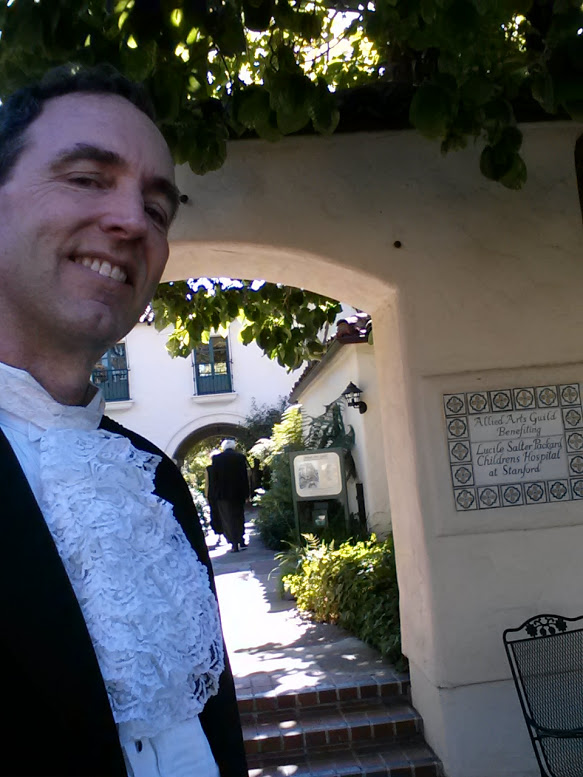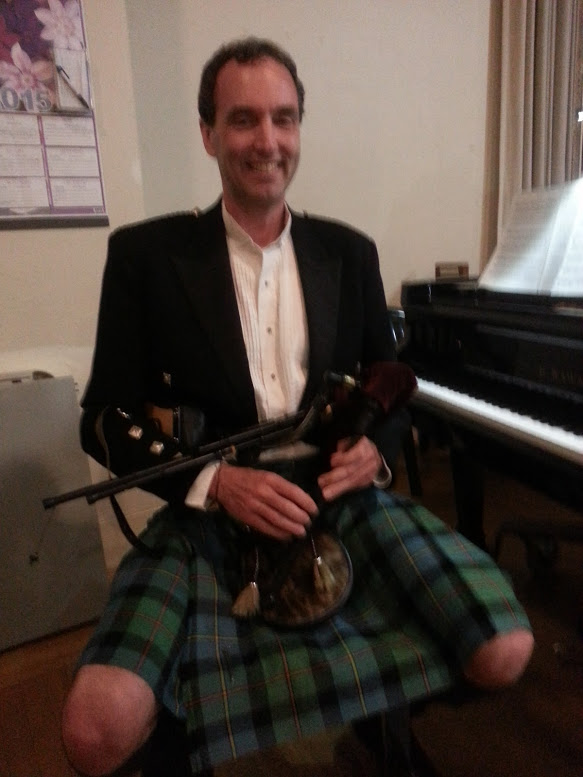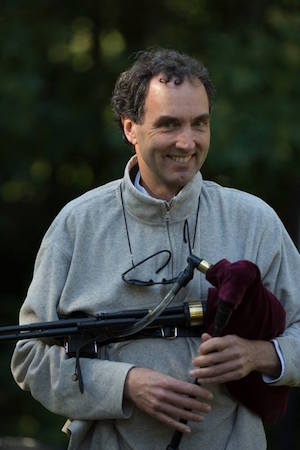 *** Four Tunes on the Scottish Smallpipes ***

*
No longer playing the Great Highland Pipes,

here's the kilt and Prince Charles' doublet I usually wear ...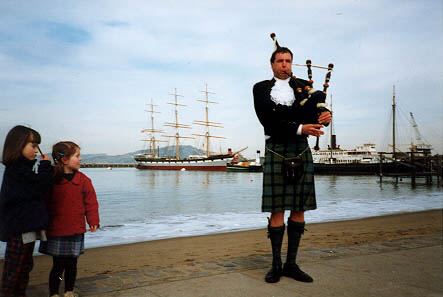 "The Balclutha" in San Francisco
---
*
Amazing Grace
---
*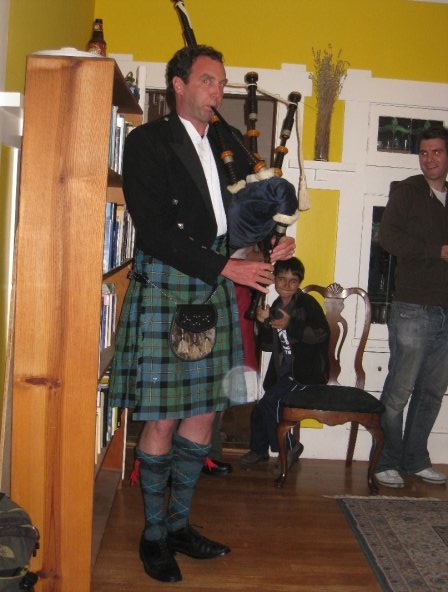 Piping near the Science Fiction books at a Birthday Party in the S.F. Bay Area
---
*
Scotland the Brave
---
*
Bagpipe Music for Your Wedding:

I often play Amazing Grace, and Scotland the Brave, because they're loved, familiar and beautiful. I also play the lovely 'Scotsaire Hornpipe,' and 6/8 Marches such as Seamus MacNeill and Cameron MacFadyen, as well as Hornpipes, Jigs and Reels, and occasionally an urlar from a Piobaireachd. Given enough time to learn a piece of music, I also take requests.
*

YosemiteWeddings.org

http://www.yosemiteweddings.org
*

Piping For You in the Following Cities and Places:

East Bay, Moraga, Oakland, Montclair Village, Stanford University, San Jose, San Francisco, Sacramento, Middletown, Calistoga, Healdsburg, Atherton, Berkeley, Contra Costa, Corte Madera, Emeryville, Fremont, Citrus Heights, Concord, Elk Grove, Hayward, Hillsborough, Larkspur, Marin, Piedmont, Daly City, Fairfield, Pleasant Hills, Richmond, Antioch, San Mateo, Vacaville, Livermore, Redwood City, Alameda, Napa, Mountain View, Rancho Cordova, Union City, Pleasanton, Walnut Creek, Milpitas, Davis, South San Francisco, Pittsburg, Palo Alto, San Rafael, Petaluma, Santa Cruz, Cupertino, Novato, Watsonville, San Ramon, Gilroy, Newark, Danville, Rohnert Park, San Bruno, Pacifica, Campbell, Martinez, Dublin, Morgan Hill, Oakley, Pleasant Hill, Brentwood, Menlo Park, San Pablo, Saratoga, Monterey, Foster City, Los Gatos, Burlingame, Los Altos, San Carlos, Benicia, Belmont, Lafayette, El Cerrito, Millbrae, Hercules, Pinole, Orinda, Albany, Pacific Grove, Mill Valley, San Anselmo, Half Moon Bay, Salinas, Santa Rosa, Scotts Valley, San Leandro, Santa Clara, Sausalito, Solano, Sonoma, Stockton, Sunnyvale, Tiburon, Vallejo, Woodside, Fairfax, Sebastapol, Marin City, Bodega Bay, Carmel, Pacific Grove, Big Sur, Yosemite

*
---